Almendres Cromlech, Getting there and Transport
The Almendres Cromlech are a set of 95 Neolithic standing stones forming two rings just outside of Evora. These standing stones are an interesting half day excursion from Evora and this guide will detail how to travel to them, which will need the use of a rental car.
Almendres Cromlech Driving Information
The Almendres Cromlech are to the east of Evora just off the main N114 which connects Evora to Montemor-o-Novo. The total distance from the edge of Evora to the historic site is 16km (10miles) and takes approximately 25minutes. To reach the ancient stone monuments a car is required as public transport is almost non-existent.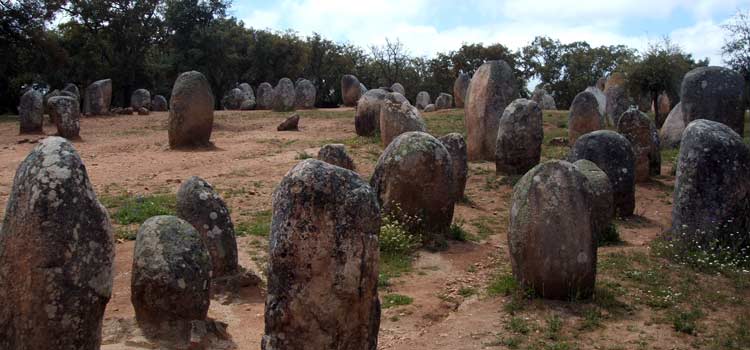 The stone rings of the Almendres Cromlech outside Evora
To reach the Almendres Cromlech head east out of Evora along the N114. After approximately 8km there is a left junction leading to the village of Nossa Senhora de Guadalup; this is the only major left junction on the N114 for miles and turns onto the CM1075, which is called the Rua Principal. After 3 km the road leads into the village of Nossa Senhora de Guadalup, in the centre of the village take the right turn, which leads to the village of Almendres. The stone circles of Almendres Cromlech are at the end of this road and are 4.5km from the village of Nossa Senhora de Guadalup or 7.5mh from the N114.
For those visitors who wish are travelling along national highway A6 (IP6) to the Almendres Cromlech need to take junction 5 off the highway. The Almendres Cromlech are 10km from junction 5. The route follows the N114 for 1.2km towards Evora then turns right towards the village of Nossa Senhora de Guadalup. The final directions are the same as above.