Evora Portugal Tourism and holiday Guide
Evora is a charming city that is situated in the heart of the arid Alentejo region of central Portugal. Historically, Evora was a significant centre for both trade and religion, which resonates through the sheer variety of tourist sites. Most of which are all conveniently contained within the city's ancient walls.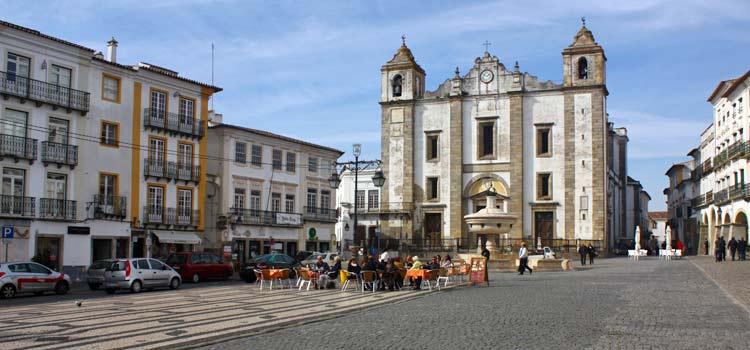 The Praça do Giraldo is the heart of Evora
Evora is an ideal tourist destination and should be a definite consideration; whether visiting as a day trip from Lisbon or by including the city in a wider tour of Portugal. This summary guide will provide an introduction to Evora and contains links to subsequent detailed information.
Why Visit Evora?
Evora has an abundance of Portuguese national monuments and is home to the second largest collection, after Lisbon. These range significantly, and together provide tourists with an absorbing cultural experience.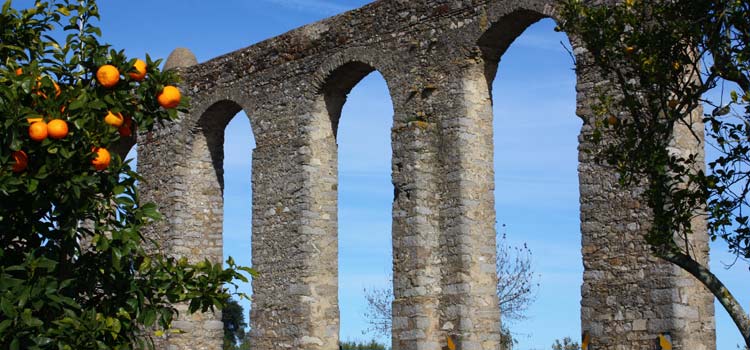 Evora Aqueduct
Highlights include; an impressive Roman Temple, majestic cathedral, intriguing prehistoric standing stones and the macabre Chapel of Bones, amongst many others. The city's quaint, cobbled streets, lined with traditional painted houses, are a delight to explore and have remained unpreserved through the generations. For a guide to the major sights of the city please click here.
Is Evora old and boring?
Evora should not be mistaken as a sleepy old relic that is reliant upon its glorious past. The city is young and vibrant, with a large student population who attend one of the world's oldest universities.
The Diana Roman Temple is the most famous attraction in Evora
Tourists can get a taste of the local delicacies at one of the fine family-run restaurants and those looking for nightlife should head to one of the numerous small late-night bars. Beneath the traditional exterior, Evora is a very much living, breathing city, which welcomes tourism and demands to be visited.
How long to visit Evora?
To get the most from the city, a stay of at least two nights is recommended. Also, for tourists with a rental car, Evora can provide a great base from which to explore the surrounding region. Other regional highlights include; Estremoz, Evoramonte and the highly fortified city of Elvas.
Evora as a day trip from Lisbon
Evora can be visited as a day trip from Lisbon but some tourists may find this too long due to the 1.5 hour train/bus journey (one way). Some visitors may also find the midday heat too much for sightseeing and may wish to spend a night in Evora to explore the city in the cooler morning and evening periods. For an extensive guide about visiting Evora as a day trip from Lisbon please click here.
The very creep bone chapel
When best to Visit Evora?
Early spring is the best time to visit Evora; the rolling plains are lush and full of flowers while the days are bright and pleasant.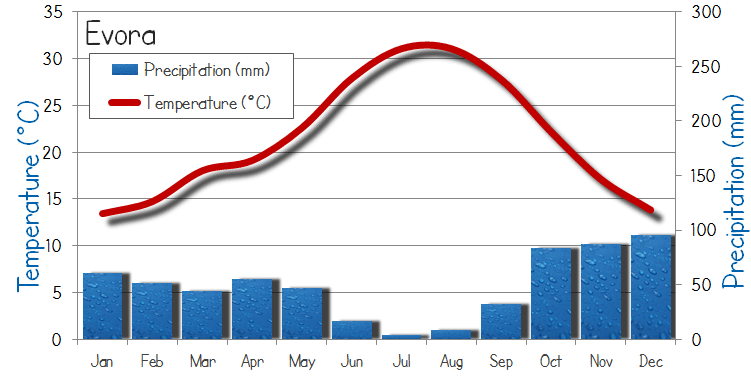 The average weather of Evora
Summers are extremely hot in the Alentejo region and sightseeing can only be done in the early morning or late in the afternoon. For tourists intending on visiting during the summer, follow the locals' example, by operating at a much slower pace and taking a long lunch. The entire city shuts down to avoid the midday heat. Click here for a guide to the weather of the region.
Lisbon to Evora
Evora is connected to Lisbon by a reliable and inexpensive public transport network. There are many more daily bus services than train but we personally prefer the relaxing train journey. Journey times for both bus and train are around 1.5 hours and the fares are comparable, €12.50 for an adult single ticket. For a guide to traveling from Lisbon to Evora please click here.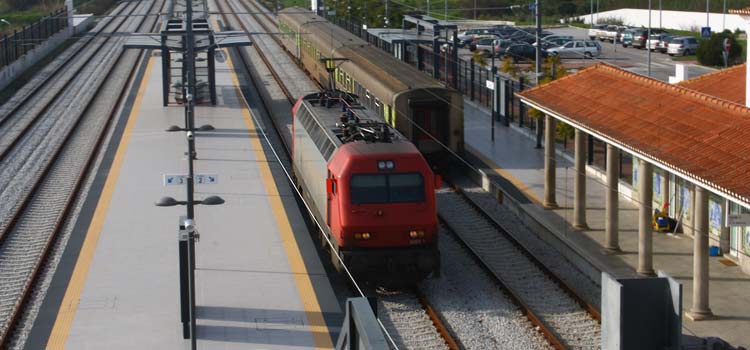 Evora train station is modern but very quiet
Is Evora Expensive?
Evora is a comparatively cheap tourist destination and accommodation, food and entrance fees are affordable on all budgets. Evora does not have such a peak summer season (due to the hot weather) and accommodation is reasonably priced throughout the year. Where possible, it is advisable to book accommodation as far in advance as possible as the best bargains tend to sell out first. For a list of the best hotels and their rates please click here.
Exploring the Evora region
There are many great day trips from Evora but a rental car is recommended as public transport can very be limited and connections are poor. Driving is very easy in the Alentejo region as the roads are very quiet and kept to a good standard.