Evora Portugal Guide
Evora is a delightful Portuguese city that is situated in the heart of the arid Alentejo region of central Portugal. Evora makes for a fantastic tourist destination with numerous interesting sights, a traditional heritage and an unhurried ambience, in part due to the intensely hot summers. Historically, Evora was an important trading and religious centre, and this is reflected by the many tourists attractions which can be discovered within the city walls.
The gothic architecture of the Praça do Giraldo
Evora should not be mistaken as a sleepy old relic that is reliant on its glorious past: the city is young and vibrant, with a large student population who attend one of the world's oldest universities. The relatively small city of Evora is a gem of a tourist destination, so let us be your Evora guide and show you why you should include it as part of your tour of central Portugal.
Getting Started With Evora
Extended Evora Introduction
Evora and central Portugal make for a fantastic destination as part of a touring holiday, or alternatively as a short break from Lisbon. Evora is connected by reliable and inexpensive public transport, with direct bus and train services that make the central Alentejo region easily accessible from the capital.
Lisbon may only be 180km to the east of Evora, but the cultures, attitudes and heritage are markedly different. The pace of life in Evora is much slower, and the relaxed atmosphere is infectious with visitors, who frequently find they stay much longer in Evora than the initially expected.
The Diana Roman Temple
For visitors, Evora has an excellent standard of accommodation, which is significantly cheaper than in the Algarve and other tourist centres of Portugal. Even in the height of the tourist season hotels in Evora do not completely sell-out, which makes Evora ideal for an impromptu short stay excursion. The other advantage of Evora is that the hot and dry climate means that the region is suitable to be explored throughout the entire year.
In the hot summers, visitors should rise early to avoid the heat of midday sun, while in the winter months Evora is drier and milder than the coast. In conclusion, Evora makes for an enthralling 2 day or 3 night holiday destination. Evora is significantly cheaper than many other tourist regions of Portugal, with a great value cuisine, fine local produced wines and numerous cafes for small snacks.
The Portuguese joke about the slow pace of life of the Alentejo people with their long lunchtime siestas, but these are people in tune with their surrounds and, most importantly, their weather. Their less hurried approach is infectious with tourists, who find themselves spending leisurely afternoons sat in the open-air cafes and sipping local produced wines. Visitors should not mistake the pace of life of Evora to imply that the city is a relic. There is a large and vibrant student population that revolves around the historic university. Our Evora (Portugal) Guide explains where to party and hang out.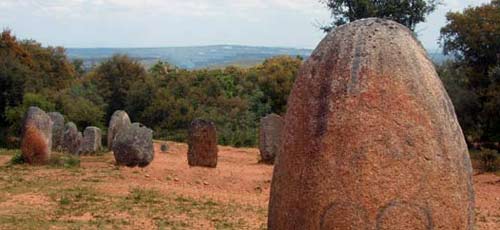 The Almendres Cromlech standing stones
The monuments of Evora are varied and include the prehistoric standing stones, the ghoulish chapel of bones, the Diana roman temple, the university complex and the fortified cathedral, just but to name a few. Inside the city walls there are narrow cobbled streets lined with traditional painted buildings and ways of life that have not been altered in generations. Our guide will show you why so many tourists fall in love with the region. Evora makes for a great tourist destination, so let us here at Evora-Portugal.com be your Evora Portugal guide and show why you should visit this area as part of your holiday to Portugal.